Our friends over at TheJapanShop.com have released a new iPhone/iPod Touch application.
This application contains 101 Japanese Idioms and costs $1.99 on the iTunes store.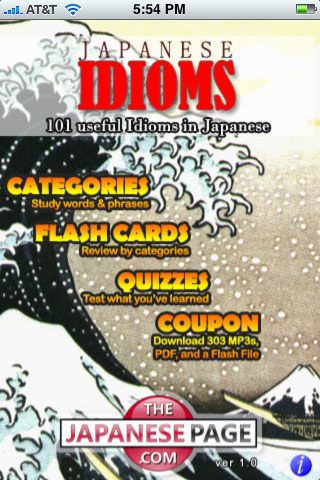 In case you didn't pay attention in English class, idioms are expressions like, "shake a leg." A phrase that means something other than what it literally means. (no worries, I think I learned the meaning of "idiom" in Japanese class… no joke.)
Though there are some pretty obscure Japanese idioms, the ones included in this application are the type that every Japanese person will know and likely use from time to time. For example, one common Japanese idiom taught in many schools is goma wo suru ごまをする which literally means to "grind sesame", but means "to kiss up" to someone. Strange explaining an idiom with another idiom isn't it…
Any how…
The best part about the application (in my opinion anyway) is that every phrase is spoken, and it also includes sample sentences using the idiom in a natural way (the sample sentences are also spoken!) The voice is done by a native Japanese speaker so the voice quality is excellent.
Learning idioms is a lot of fun because usually even beginners will be familiar with all of the vocabulary used in the idiom, and simply have to learn the meaning and how its used. It's always fun to learn new ways to use the words you already know! Even though I've been studying Japanese forever, I still did not know all 101 of the idioms in this application. This is really useful stuff!
The application also includes a flash card and quiz mode, so you can study the idioms in a variety of ways.
This video is worth 1,000 words.
Also, right now as a promotion TheJapanShop.com is giving away $5.00 coupons valid for anything at the TheJapanShop.com online store with your purchase of this $1.99 application for your iPhone or iPod Touch. You might want to take a look at their $5.00 digital downloads, like this beginners vocabulary flash download. Or just go to their site and search for "Instant Download" and you can find a lot of other options as well.
In case you missed TheJapanShop.com's first iPhone application, check it out in this earlier post.
Have fun!
– Harvey